JIM POWER (MICRO WORLD/ LORICIEL)

SUPER CD-ROM 2 (

ENGLISH VERSION)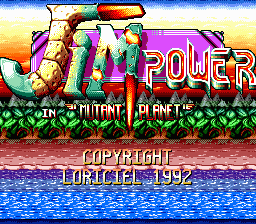 From 1992 on, lots of Western titles were released for the PC-ENGINE and published by Micro World. Jim Power was among these titles. Originally produced by Loriciel on the AMIGA, Jim Power impressed a lot with its nice gameplay, plenty of scrolling, gorgeous graphics and an impecable soundtrack composed by Chris Hülsbeck, the name behind the excellent Turrican tunes.

Jim Power had been converted to the SNES, a brilliant version pretty similar to the AMIGA game. It was supposed that the PC-ENGINE version would also be that nice, since it was going to be ported by the same team which made Jim Power on AMIGA.
| | |
| --- | --- |
| | In fact, Jim Power is a little disappointing on PC-ENGINE. Graphics are nice, but cannot really be compared to the ones made on AMIGA and SNES. The main character had been completely changed: he lost his blond hair and, now, he uses a cap and eyeglasses (!!). Those changes on his looking affects a lot the mood of the original game. There are only a few scrolling on terrestrial areas, game control isn't smooth and the bosses are pretty silly and easy to be beaten. |
But there's a nice reason to get Jim Power: its soundtrack. The conversion from chip music to Audio-CD tracks was well made by Chris Hülsbeck himself. They're not as good as Turrican tunes, but come really close. I won't say this is a perfect soundtrack because the first stage background tune is VERY, VERY similar to another tune from YS III, game relased before Jim Power. It might be only coincidence, but plagiarism comes to mind immediately: take your own conclusions!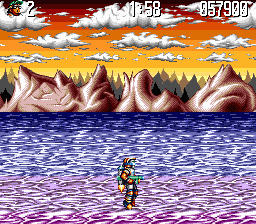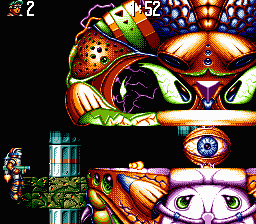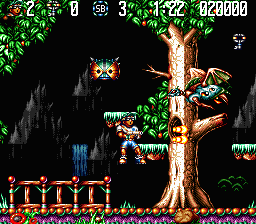 Jim Power is just an average game. You can go through the stages without big troubles, the musics are truly pleasant and catchy, but there's still something missing...maybe something ethereal and invisible that games like Dracula X, Valis III and Kaze Kiri are plenty of.
Marcelo Reis
UNIVERSO PC-ENGINE

Graphics

75%

Playability

59%

Musics and Sound Effects

94%

Interest

61%

OVERALL

72%